The most effective way to treat your dental problems are to not let them happen in the first place. Preventive dentistry is a tried and true method for keeping your teeth healthy and pearly white.
Now you may say, "but I brush my teeth twice a day and floss regularly, isn't that preventive enough?" Of course all of that routine cleaning is good for you, but your mouth is a hard place to see in detail and there are some parts that maybe you aren't reaching as well as you think you are. Your dentist will be able to pinpoint any potential trouble areas, and even the most diligent flosser can be subject to pesky tartar build-ups. See below for preventive measures we offer at Integrity Family Dentistry:
TMJ Therapy
Athletic Mouthguards
Fluoride Treatments
Halitosis Treatment
Headache Prevention (NTI)
Nightguards (for bruxism)
Oral Cancer Screenings
Sealants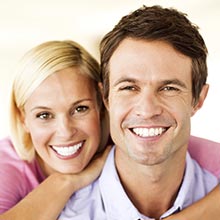 We Believe In Building Up Your Teeth, Not Tearing Them Down
Dr. Segrist prides himself by diagnosing what your biology is telling him. Healthy teeth in a healthy bite don't break, wear, or hurt. The correct dental treatment will ensure success for your healthy system. We don't want our patients' biology to adapt to our dentistry, on the flip side our dentistry fits into our patients' biology. Since everyone is different, we adapt to your needs.
Advanced TMJ Therapy
Dr. Segrist has extensive knowledge in occlusion TMJ (temporomandibular joints). TMJs are the most complicated joints in your body because they move in so many directions. They allow us to open our mouths and move our jaws left and right. Troubles with your TMJs are a very common disorder for people of all ages.
Based on your individual diagnosis, Dr. Segrist will make the correct therapy for you specific needs. He also specializes in many different types of nightguards such as NTI, Anterior Bite Plates, Orthotic Splints, and more. If your jaw is popping, stiff, or sore then a trip to Dr. Segrist is your key to pain relief.