Dental implants are a common dental practice used to replace a single tooth, multiple teeth, or even to help anchor a denture. Having all your teeth allows you to eat more of the foods that you love! At Integrity Family Dentistry, we pride ourselves on providing optimum care and precision when it comes to our dental work. We have extensive training in implant dentistry so you can rest easy knowing we have the experience and passion to restoring the smile you deserve.

Dental implants are a safe and long-term solution for restoring your smile!
What Are Dental Implants?
A dental implant is a popular and long-lasting solution for replacing missing teeth. By using a method called osseointegration, your technician will surgically place a biocompatible piece of titanium in your jaw. The bone cells in your jaw will attach to the metal and effectively become the "root" for your new tooth. The prosthetic tooth is then designed to blend right in with your existing teeth and attached to the implant. When you smile no one will ever know you have an implant. Some of the types of implants we include:
Denture Stabilization
Mini Implants/MDIs
Restoration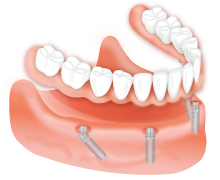 Are Implants Right For Me?
If you have lost a tooth due to disease, decay or accident, then dental implants are an excellent option! Every patient and every mouth is different, so schedule an appointment with Dr. Segrist to go over all of your options. He will give you the peace of mind that no stone is left unturned and you are receiving the exact treatment your body needs.
Are implants right for you? Call us to speak to an expert!
Call Us Today!